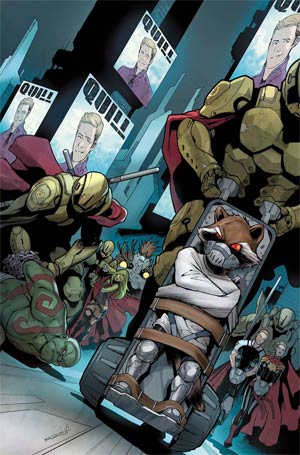 A series a decade in the making is finally here! Star-Lord! Groot! Gamora! Drax! Rocket Raccoon! Your favorite bad boys (and girl!) of the galaxy are back and they've got a mission that will rock the Marvel Universe.
RECENT TALENT:
Writer:
Brian Michael Bendis
Artist:
Valerio Schiti
Tags for this comic:
» Rating » T+
Cover Price: $47.88
You Save 40%
Your Price: $28.96
• 12 issue subscription
FREE U.S. SHIPPING
Please allow 6-8 weeks for delivery of your first issue.
Get this subscription for 44% OFF!
» Find out how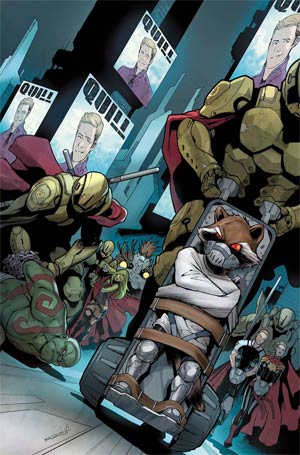 Guardians Of The Galaxy Vol 3 #26 Cover A Regular Valerio Schiti Cover
It seems like the Guardians have forgotten something in all the cosmic craziness that's been going on…
Oh…that's right… Peter got elected President of Spartax… wait WHAT?!
Looks like he's done a GREAT job escaping his father's legacy. Guess he can even screw that up!
Rated T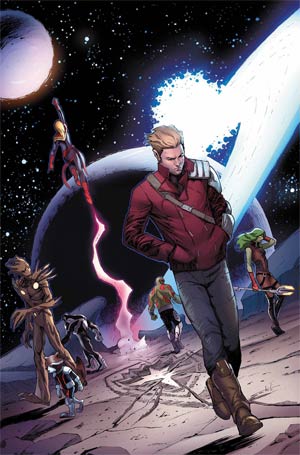 Guardians Of The Galaxy Vol 3 #27 Cover A Regular Valerio Schiti Cover
Guardians no more?
Following the Black Vortex, the Guardians have come into conflict with one another more and more.
With rifts forming between them, will their friendship and history be enough to hold the team together?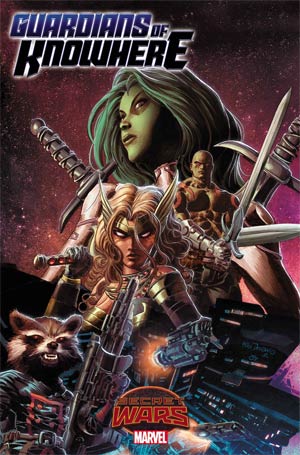 Guardians Of Knowhere #1 Cover A Regular Mike Deodato Jr Cover (Secret Wars Warzones Tie-In)
A single moon orbits Battleworld. But no, that's no moon. It's a space station. It's Knowhere.
The head of a dead Celestial, somehow saved in the universal collapse, a colony brimming with convicts and criminals.
The Galaxy may be gone, but that doesn't mean there aren't places that still need heroes. Places that need champions. That need GUARDIANS.
Rated T