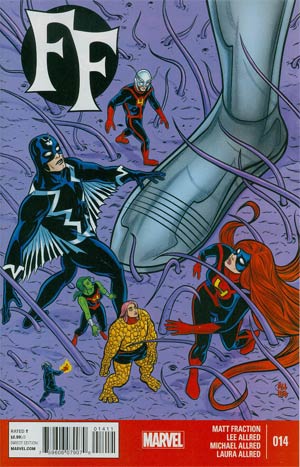 We have seen the future and it will be fantastic! In the absence of the Fantastic Four, a substitute Four, hand-picked by the real deal--Ant-Man, Medusa, She-Hulk and Miss Thing--stand ready to guard the Earth and the nascent Future Foundation for four minutes...NOW! what could possibly go wrong?
RECENT TALENT:
Writer:
Matt Fraction
Artist:
Mike Allred
Tags for this comic:
» Class » Marvel Heroes
» Class » Marvel NOW!
» Class » New Readers
» Rating » T
Please note that some titles will be skipping a month as we gear up for Marvel NOW! Donít worry, though, you wonít miss an issue!

FF is a new title. If you had formerly subscribed to FF, your subscription will be switching to Fantastic Four.
Cover Price: $35.88
You Save 25%
Your Price: $26.99
• 12 issue subscription
FREE U.S. SHIPPING
Please allow 6-8 weeks for delivery of your first issue.
Get this subscription for 33% OFF!
» Find out how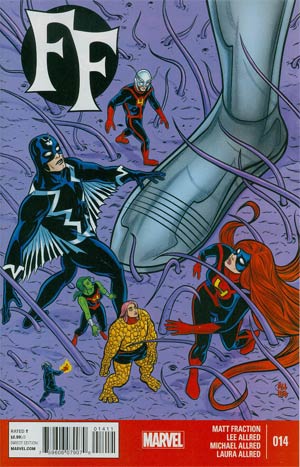 FF Vol 2 #14
It's the eve of the Future Foundation's war with Latveria and the FF are readying for battle!
But so is Doom the Immortal Conqueror - and the Council of Dooms!
What's happening in Old John Storm's head? I mean, what's UP with that guy, anyway?
Into the Doomed Universe! Imagine a place where the only five things left alive are the Fantastic FourÖ and Dr. Doom!
How can they save an entire galaxy used to fuel a power-mad Doom's cosmic empire?
And after the shocking end of last month's issue, can the first family hold it together just a little while longer?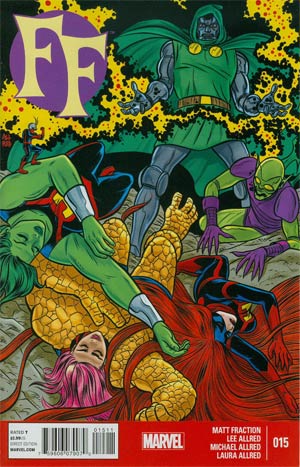 FF Vol 2 #15
Invasion Latveria: the Video Game!
Four stand-in replacement heroes and a dozen kids versus Dr. Doom, now transformed into the ultimate power in the universe: Doom the Annihilating Conqueror! What a time to run out of quarters!
Game over, man! Game over!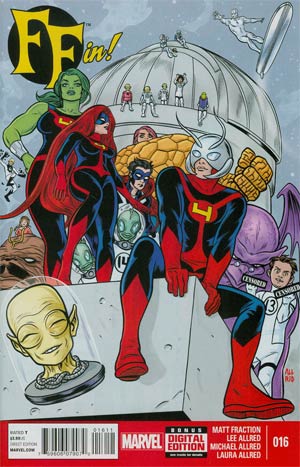 FF Vol 2 #16 Cover A Regular Mike Allred Cover
FINAL ISSUE!
'For All We Have And Are'
The final showdown. The last FF member standing, Scott Lang goes up against Dr. Doom alone -- and everyone knows the Ant can't. The smackdown of the century.
Plus an extra ten page bonus of F4/FF goodness co-written by Karl Kesel and the Allreds.