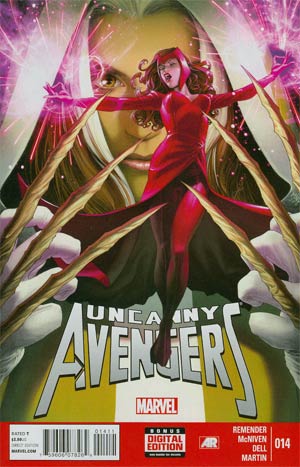 The greatest era of the Marvel Universe starts here! From the ashes of AvX an all-new, all-different Avengers assemble! Captain America assembles an all-new Avengers team featuring members from all across the Marvel Universe...a team uniting Avenger and X-Man alike!
RECENT TALENT:
Writer:
Rick Remender
Artist:
Steve McNiven
Tags for this comic:
» Class » Avengers
» Class » Marvel NOW!
» Class » New Readers
» Class » New Titles
» Class » X-Men
» Rating » T+
Cover Price: $47.88
You Save 40%
Your Price: $28.96
• 12 issue subscription
FREE U.S. SHIPPING
Please allow 6-8 weeks for delivery of your first issue.
Get this subscription for 44% OFF!
» Find out how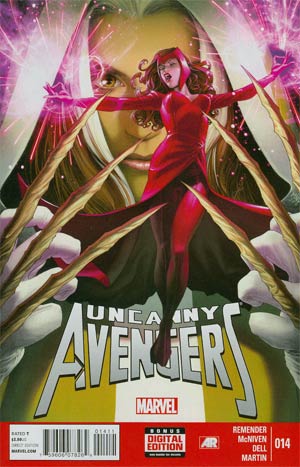 Uncanny Avengers #14 Cover A Regular Steve McNiven Cover
LEGENDARY ARTIST STEVE MCNIVEN (CIVIL WAR, GUARDIANS OF THE GALAXY) JOINS RICK REMENDER (CAPTAIN AMERICA, UNCANNY X-FORCE) IN SHAKING THE MARVEL UNIVERSE TO ITS CORE!
How many Avengers must die to stop the Apocalypse Twins?!
Wolverine fails mankind. Daken has his revenge.
Wanda confesses her true love. Grim Reaper has his revenge.
A heart-wrenching and desperate tale of betrayal, love, revenge and sacrifice.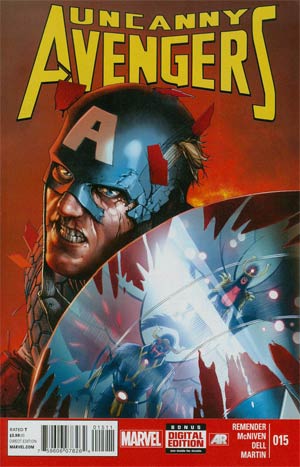 Uncanny Avengers #15
After the numerous deaths last issue the Avengers Unity Squad is left shattered and broken. The fate of humanity rests in the hands of Thor, but can the God of Thunder defeat the combined might of two Apocalypses?
At the same time The Wasp fights for her life against the unparalleled might of The Sentry!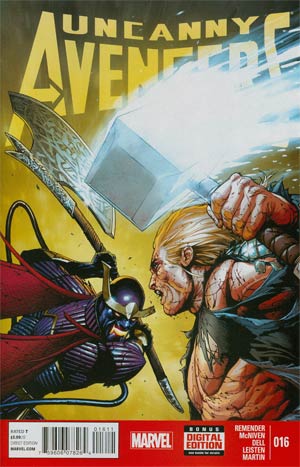 Uncanny Avengers #16
The main event! Thor vs Uriel!
Feral and vengeful after the death of a teammate, Thor is a mad God out for blood!
The heroes of Earth rally to stop the unimaginable evil the Twins have released!
In order to stop the Twins, The Wasp must do something that will curse her evermore!