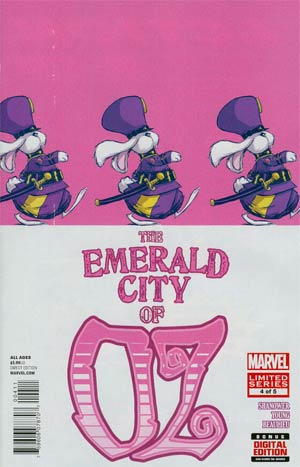 When dusty Kansas roads suddenly turn into magic highways, it's a safe bet that one of them is the road to Oz, but which one? • Dorothy's off on another fantastic adventure, and Toto is back, too. • This time their companions are strange-an old homeless guy with a magic magnet and a mentally-challenged child named Button-Bright
RECENT TALENT:
Writer:
Eric Shanower
Artist:
Skottie Young
Cover Price: $31.92
You Save 25%
Your Price: $23.99
• 8 issue subscription
FREE U.S. SHIPPING
Please allow 6-8 weeks for delivery of your first issue.
Get this subscription for 25% OFF!
» Find out how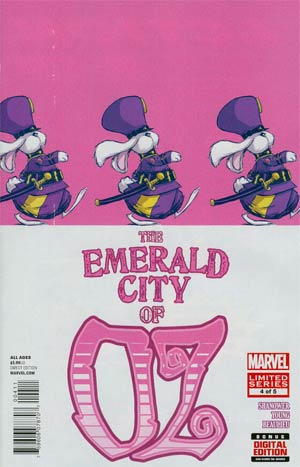 Emerald City Of Oz #4
Bunnies! Lots of bunnies! Including a King Bunny who doesn't want to be a king.
Babies! Babies in mortal danger! Including one baby almost crushed beneath the wheels of Ozma's Red Wagon and another baby nearly torn to pieces by tigers and bears. Well, sort of.
Then Ozma discovers the Nome Army's impending invasion of Oz. Is Ozma too late to save her land from annihilation?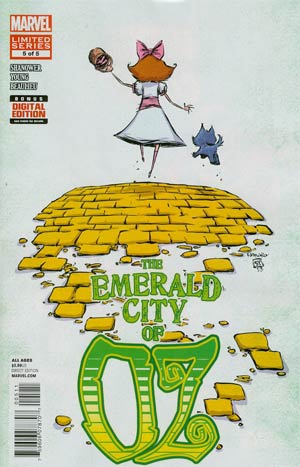 Emerald City Of Oz #5
FINAL ISSUE!
The Nome King's hordes pour into the Emerald City, bent on destroying the Land of Oz, while Dorothy, the Tin Woodman, Ozma, and the rest of their friends can only wait and watch, helpless.
The Scarecrow has one plan to save Oz, thanks to his humbug brains, and Glinda the Good has another. Discover why this is, in fact, the last anyone will ever hear of the Land of Oz.