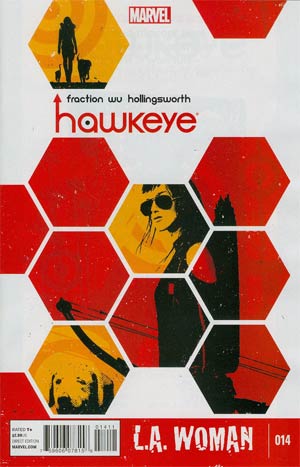 The breakout star of the blockbuster Avengers film and self-made hero Hawkeye fights for justice! With ex-Young Avenger Kate Bishop by his side, he's out to prove himself as one of Earth's Mightiest Heroes!
RECENT TALENT:
Writer:
Matt Fraction
Artist:
Francesco Francavilla
Tags for this comic:
» Class » Marvel Heroes
» Class » New Readers
» Rating » T+
Cover Price: $35.88
You Save 25%
Your Price: $26.99
• 12 issue subscription
FREE U.S. SHIPPING
Please allow 6-8 weeks for delivery of your first issue.
Get this subscription for 33% OFF!
» Find out how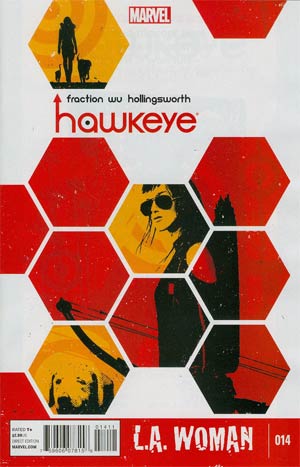 Hawkeye Vol 4 #14
THAT THING THAT HAPPENED TO KATE IN THE ANNUAL IS TOTALLY FOLLOWED UP ON! This one has it all! Characters! Plot! Story! Dialogue! Theme! Meaning! Message! Action! A little exposition! Fire! Arrows! Criminals! Neighbors! Large bodies of water! Clients! Cops who don't care! A system that victimizes the victims! The dog! In a broken town where cynicism and apathy has its claws around the throat of the good and decent, LADY HAWKEYE is the only hero you can trust!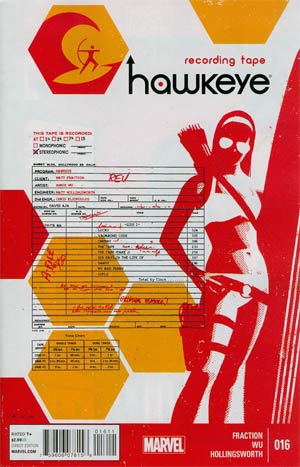 Hawkeye Vol 4 #16
The adventures of Lady Hawkguy out west continue as Kate helps a reclusive and Sixties-damaged pop music genius find his lost masterpiece.
Madame Masque, meanwhile, finds HER. By which we mean starts trying to kill her again.
Also the cat needs cat food and there's none to be found. What's THAT about?
Hey not for nothin' but you guys gotta try these Cronuts!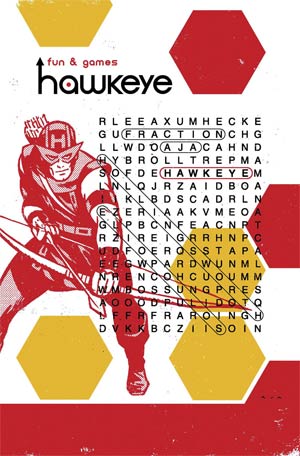 Hawkeye Vol 4 #15 Cover A Regular David Aja Cover
The brothers Barton double down against the bad guys as the Clown lays siege to their building. Can Hawkguy keep everyone safe against a killer nobody's even seen yet? • What happens when you're locked up with your loser big brother for like a week straight?
You go nuts, right? Clint goes a little nuts.
Plus…two free staples!