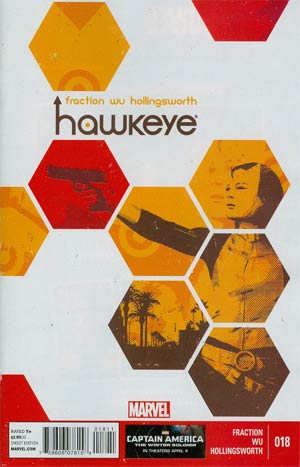 The breakout star of the blockbuster Avengers film and self-made hero Hawkeye fights for justice! With ex-Young Avenger Kate Bishop by his side, he's out to prove himself as one of Earth's Mightiest Heroes!
RECENT TALENT:
Writer:
Matt Fraction
Artist:
Chris Eliopoulos
Tags for this comic:
» Rating » T+
Cover Price: $35.88
You Save 25%
Your Price: $26.99
• 12 issue subscription
FREE U.S. SHIPPING
Please allow 6-8 weeks for delivery of your first issue.
Get this subscription for 33% OFF!
» Find out how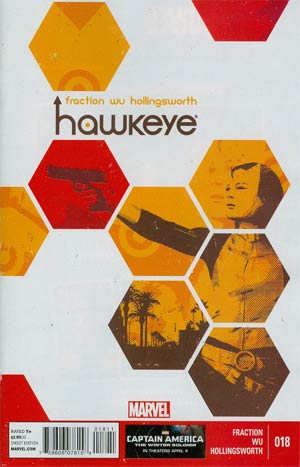 HAWKEYE #18
(W) Matt Fraction (A) Chris Eliopoulos (CA) David Aja
• Who could forget that time when Clint Barton let his neighbor's kids watched a holiday cartoon at his place? • At long last THIS ISSUE is pretty much the cartoon they all watch. YOU'RE WELCOME. • A very special holiday HAWKGUY that at long last lets legendary letterer CHRIS ELIOPOLOUS flex his astounding cartooning muscles in our pages. Matt and Matt do their regular jobs though. Maybe David will letter it? Probably not.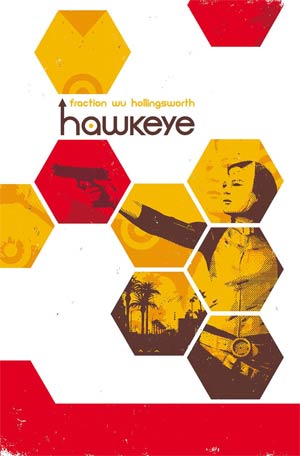 Hawkeye Vol 4 #19
Kate gets to the bottom of the greatest mystery in the entire Marvel Universe right this very hot second: just who the H is that guy in the trench coat that seems to live in her cat food aisle? The answer may surprise you.


Or maybe not, maybe you're super-good at this kind of thing.


Anyway a simple investigation dovetails into Kate's desperate race to stay one step ahead of the woman that's sworn to kill her: Madame Masque! And what started off as a zany summer vacation gets a little bloody. Buckle up, buttercups.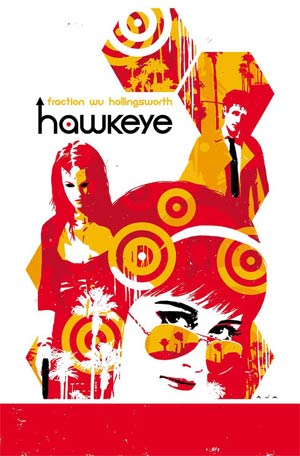 Hawkeye Vol 4 #20
KATE-GUY! MADAME MASQUE! LOS ANGELES! EXPLOSIONS! THE END OF SUMMER VACATION! THE FINAL SHOWDOWN FOR ALL THE MARBLES! THE MARBLES ARE A METAPHOR!


YOU BELONG YOU BELONG YOU BELONG YOU BELONG TO THE MERRY MARBLE MARCHING SOCIETY!


This is, THE BIG ONE. Fraction and Wu and Hollingsworth too -- OH MY!