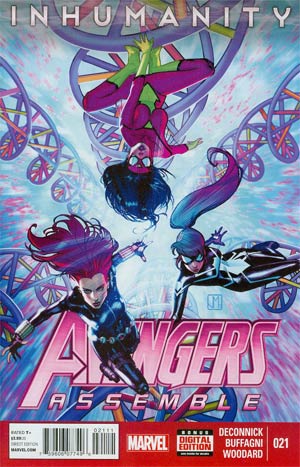 And there came a day, a day unlike any other, when earth's mightiest heroes found themselves united against a common threat! On that day the Avengers were born, to fight the foes no single super hero could withstand!
RECENT TALENT:
Writer:
Kelly Sue DeConnick
Artist:
Matteo Buffagni
Tags for this comic:
» Class » Avengers
» Class » New Readers
» Rating » T+
Cover Price: $47.88
You Save 40%
Your Price: $28.96
• 12 issue subscription
FREE U.S. SHIPPING
Please allow 6-8 weeks for delivery of your first issue.
Get this subscription for 44% OFF!
» Find out how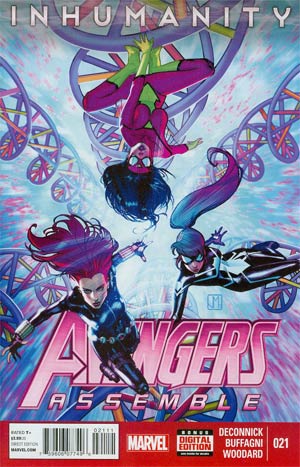 Avengers Assemble #21
Remember all that crazy science from earlier issues?? Here's where it gets positively INHUMAN!
When Spider-Girl is in trouble… who does she go to?
Black Widow, Spider-Girl and Spider-Woman.
Spider-Woman as a mentor… Who thought this was a good idea?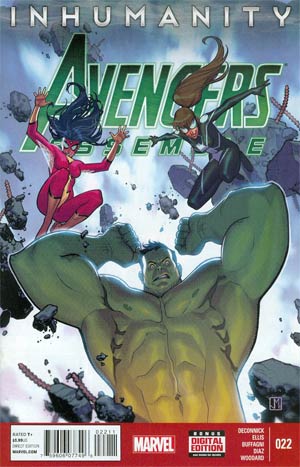 Avengers Assemble #22.INH (Inhumanity Tie-In)
INHUMANITY TIE-IN
Spider-Woman and the Hulk - Team Sad! - are Back in Black... and red. And yellow. And purple and green. A lot of green.
Speaking of green, Spider-Girl follows in the footsteps of her investigative reporter Dad and follows the money.
The Toxic Doxie has her very own Inhuman! All that a homicidal maniac could ask for.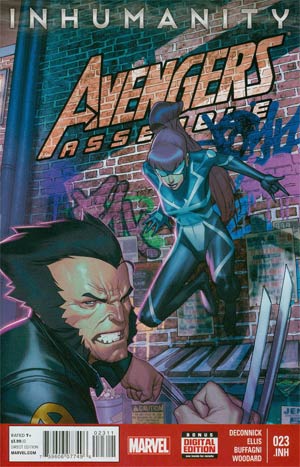 Avengers Assemble #23.INH (Inhumanity Tie-In)
INHUMANITY TIE-IN!
While tracking the toxic Dr. Covington, the education of SPIDER-GIRL takes a horrific turn: she must hero under the tutelage of the THE CURMUDGEONLY AVENGER: WOLVERINE!
The INHUMAN that the AVENGERS seek has unique ability - one that, in the wrong hands, could change everything!
WARREN ELLIS (AVENGERS: ENDLESS WARTIME) once again joins KELLY SUE DECONNICK (CAPTAIN MARVEL) in a delightfully demented dance through the Avengers roster.