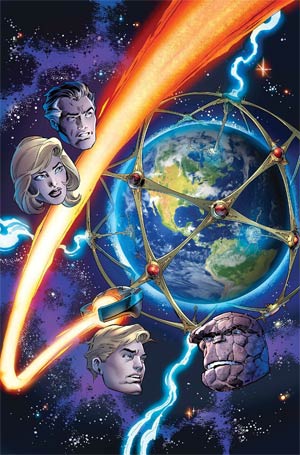 Reed Richards! Ben Grimm! Sue Richard! Johnny Storm! Together they braved the unknown terror of outer space and were changed into something more than human! Mr. Fantastic! The Thing! The Invisible Woman! The Human Torch! And now the world will never be the same!
RECENT TALENT:
Writer:
Matt Fraction
Artist:
Mark Bagley
Tags for this comic:
» Class » Marvel Heroes
» Class » Marvel NOW!
» Rating » T
Please note that some titles will be skipping a month as we gear up for Marvel NOW! Don't worry, though, you won't miss an issue!

All current subscriptions to FF, as well as Fantastic Four, will be transferring over to the Marvel NOW! Fantastic Four. So there's no need to subscribe to this title if you already subscribe to either of these. (If you subscribe to both, we'll automatically set you up with a renewal, so you'll get twice the issues.)
Cover Price: $47.88
You Save 40%
Your Price: $28.96
• 12 issue subscription
FREE U.S. SHIPPING
Please allow 6-8 weeks for delivery of your first issue.
Get this subscription for 44% OFF!
» Find out how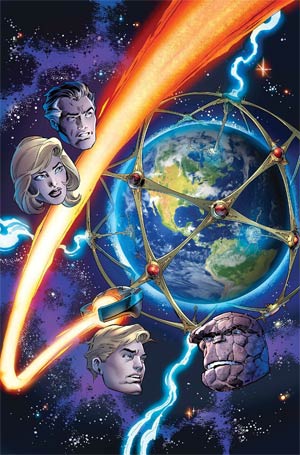 Fantastic Four Vol 4 #14
Into the Doomed Universe! Imagine a place where the only five things left alive are the Fantastic Four… and Dr. Doom!
How can they save an entire galaxy used to fuel a power-mad Doom's cosmic empire?
And after the shocking end of last month's issue, can the first family hold it together just a little while longer?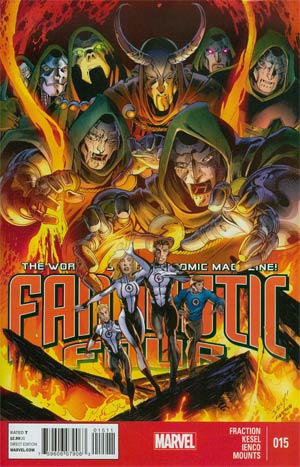 Fantastic Four Vol 4 #15
DOOMED! Part 3: The Elements of War
The Fantastic Four struggle to stop the molecular plague destroying their powers and bodies.
Standing between them and the cure: the Frightful Force, an army of their greatest foes, led by one of the F4's own who betrayed them! Their only allies: another Fantastic Four!
Meanwhile, Dr. Doom, Kang, and Annihilus come to an ominous meeting of the minds...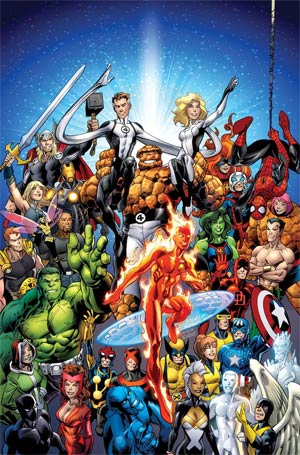 Fantastic Four Vol 4 #16 Cover A Regular Mark Bagley Cover
FINAL ISSUE!
The Fantastic Four are... DOOMED! Dr. Doom has taken on the power of Kang and Annihilus and is supreme ruler of the entire world. Good News: this is in the Doomed Universe. Bad News: our universe is next. The only ones in his way are the Fantastic Four and... the Fantastic Four! The Elemental Eight face off against Doom the Annihilating Conqueror with the fate of infinite realities in the balance! Plus the fate of Old John Storm! All in the fiery finish to the most mind-bending F4 adventure ever!