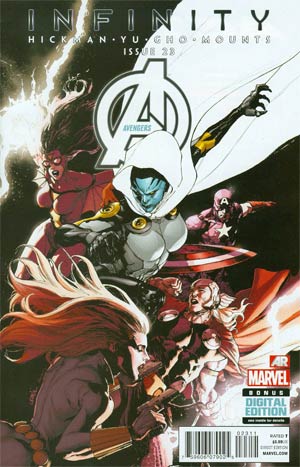 At the dawn of the Heroic Age, the Avengers will assemble once again! The Avengers team like you've never seen them before! New roster! New threats! Everyone's favorite super team presented in true blockbuster fashion!
RECENT TALENT:
Writer:
Jonathan Hickman
Artist:
Leinil Francis Yu
Tags for this comic:
» Class » Avengers
» Class » Marvel NOW!
» Class » Most Popular
» Rating » T
Cover Price: $47.88
You Save 40%
Your Price: $28.96
• 12 issue subscription
FREE U.S. SHIPPING
Please allow 6-8 weeks for delivery of your first issue.
Get this subscription for 44% OFF!
» Find out how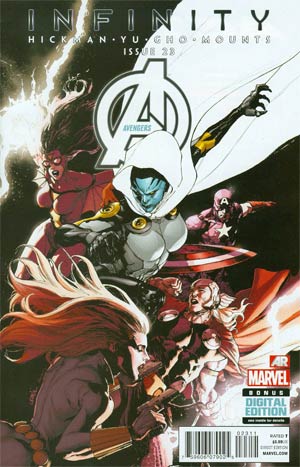 Avengers Vol 5 #23 (Infinity Tie-In)
INFINITY TIE-IN - 'AVENGERS UNIVERSE: VI'
The Avengers versus the Black Order.
The battle for Earth moves planetside.
Thanos takes center stage.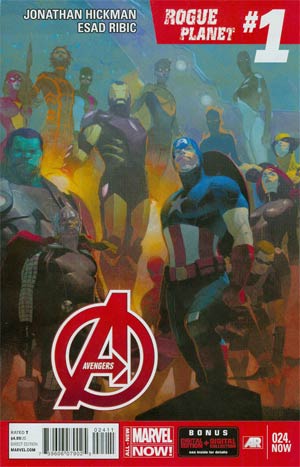 Avengers Vol 5 #24.NOW
'ROGUE PLANET' - Part 1 of 5
Captain America and Iron Man plan for the next version of the Avengers.
A runaway planet is on a collision course with Earth.
A visitor from the future helps save the day.
AVENGERS #24.NOW = AVENGERS #1 IN ALL-NEW MARVEL NOW!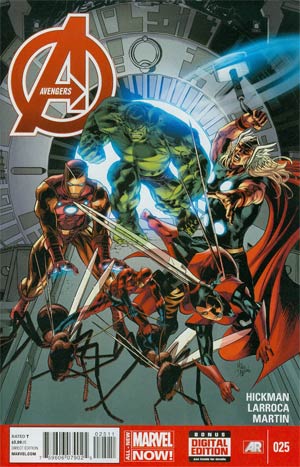 Avengers Vol 5 #25 Cover A Regular Mike Deodato Jr Cover
'THE MIRROR'.
It worked for the X-Men! Would we be so crass as to do it again?
Introducing the ALL-NEW AVENGERS!
And we've been good up till now, but this issue, an Avenger dies.